Dr. Darrin Menard has been a practicing physician for the clinic since opening it in 1998. As the sole physician at that time, he was responsible for starting the practice and has now continued to expand with the addition of 3 other providers. Dr. Menard has adopted a progressive mindset when it comes to being on the forefront of medical technology in the practice and is continuing to meet guidelines for meaningful use of electronic medical records as well as establishing a Patient Centered Medical Home.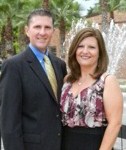 Dr. Menard has established himself as a community oriented individual. He has been the team physician for the 2 time football state champion Acadiana High athletics program since beginning his practice. He is heavily involved at the St. Peter and Paul Catholic Church community by serving as a Lay Minister as well as helping to coordinate activities on beginning a new catholic school. He has continuously served on the advisory council, as Chairman for 3 years, since its inception in 2008. Dr. Menard has also been a member of the Scott Knights of Columbus since 2002.
Dr. Menard has a passion for inspiring others to create health in their lives and has benefited from the effects of Take Shape for Life by being able to lose 90 pounds over 2 years ago and has been able to maintain that weight loss. Many people have improved their quality of life and now he and many others in their community are helping others by paying it forward as health coaches.
Office Location(s):
Dr. Darrin D. Menard
My Phone: 337-232-1802
Fax: 337-232-1809
Accepting new patients:
Currently accepting local patients in community
Medical Education:
LSU Medical School-Shreveport : 1995
Internships:
LSUMC-Lafayette : 1998
Fellowship:
American Board of Family Practice : 2005
Board Certifications:
American Board of Family Physicians : 1998,2004
In Practice Since:
1998